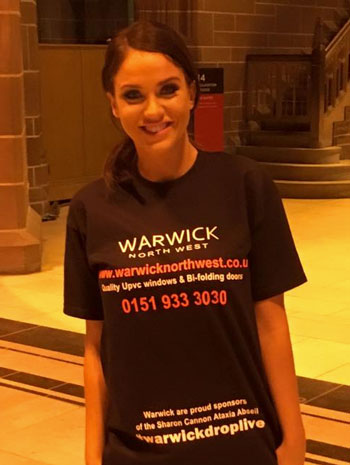 Warwick North West, one of the region's biggest and most respected trade fabricators, recently served as a main sponsor for a charity abseil held at Liverpool's Anglican Cathedral.
The event, which sought to raise money for the Multiple System Atrophy Trust, saw famous faces including Geordie Shore star and I'm a Celebrity… winner Vicky Pattison navigate their way down the world's fifth largest cathedral sporting T-shirts emblazoned with the Warwick North West logo.
Multiple system atrophy is a rare neurological condition caused by the degeneration of nerve cells in the brain, leading to problems with movement, balance, and other bodily functions. The MSA Trust seeks to support sufferers of the disease, their families and carers, while funding research in the hope of finding the cause for and eventually curing MSA.
"We were delighted to sponsor the event," commented Warwick North West director Greg Johnson. "MSA is a rare and little-understood condition, and the Trust is a fantastic charity offering a huge amount of support to sufferers of the disease. We're proud to support their work, and we thoroughly enjoyed seeing the Queen of the celebrity jungle descending the iconic Anglican Cathedral in one of our T-shirts."
Based in Bootle, Liverpool, Warwick North West is a leading fabricator of premium-quality PVCu windows and doors. Known for its expertise in the more specialist products such as bi-fold doors and vertical sliders, Warwick has reached new heights of success since the release of its exclusive Innolux range. This isn't the first time Warwick has connected with a famous face – the fabricator recently teamed up with local celebrity Ricky Tomlinson to promote their Innolux bi-fold door. You can watch the video here.