Warwick North West has collaborated with leading regional training provider Express Training to offer the much-needed work and training opportunities to local young people. The company has taken on four new apprentices, all of whom are working as fabricators in the 25,000 square foot factory.
Director Greg Johnson explains: "Ask anyone in glass and glazing what they see as one of the biggest long-term challenges facing the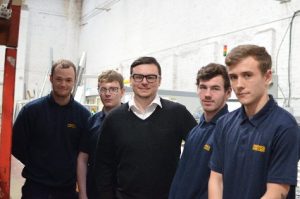 industry today, and they're likely to say the skills shortage. We've got a fantastic and ever-expanding range of products, the most diverse selection of aesthetic options we've ever had, and technology that keeps marching forward and improving all the time. But without skilled people, that all counts for nothing."
"There are thousands of young people out there with a huge amount of potential, but lacking the investment and encouragement they need to flourish. At Warwick, we want to take a lead in investing in the future, and that's why we're delighted to be taking on these four apprentices – and hopefully setting them on the road for long, prosperous careers in the industry."
The apprentices, Ryan, Luke, Jack and Gerard, will be given the chance to experience various aspects of the business during their on-the-job training, picking up crucial skills to help them progress within glass and glazing.
Established in 1998, Warwick North West has quickly risen to become the region's leading provider of uPVC windows, doors and conservatories. The company recently launched Innolux, a collection of PVC-u windows and doors that combine innovation and luxury. The Innolux range includes bi-folding doors made with the Eurocell Aspect system, casement windows made with the new Modus system, and vertical sliders made with the Eurocell Charisma system.
For more information call 0151 933 3030 or message us.