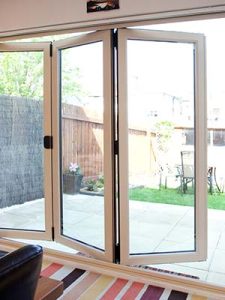 Bifolding doors prove time and time again that they are the must-have home improvement product for 21st century homeowners. The jewel of Warwick Northwest's Innolux range, our bifolding doors satisfy the market's demands for a truly bespoke and specialist product.
Innolux bifolding doors feature ultra slim sightlines that make for a sleek, contemporary appearance that is able to effectively rival aluminium alternatives. Available in two to six panel configurations, Innolux bifolding doors from Warwick Northwest is the home improvement product that never stops giving.
A practical way of transitioning from home to garden
The best quality Innolux bifolding doors boast seamless entrances thanks to a low threshold design. This is ideal for removing the need of customers having to step over a walkway and generally creates a smoother transition from the outside to inside.
Offering our Innolux bifold doors as a part of your range is a dependable way of attracting more customers and increasing leads for your business. Installers situated in the North West of England are seeing the benefit in taking up this lucrative business opportunity with Warwick Northwest, leaving both them and customers extremely satisfied.
Compact design that lets in lashes of natural light
Unlike sliding patio doors, our Innolux bifolding doors take up very little space when open, becoming a key selling point and important factor for the consumers that want to make the most of space. Despite this unique feature, their grand style still makes for a wide-span entrance.
The ultra-slim sightlines featured in the product matches the scenic views often found with aluminium, letting customers capitalize on the maximum amounts of light available. You can confidently offer a premium bifolding door that features the perks of aluminium, but being low maintenance thanks to their PVCu structure.
Easy installation for any tradesmen
Innolux bi-folding doors are also incredibly easy to install thanks to a slim stepped outer frame that contains all the door hardware inside the frame. This removes the need to cut plaster or make alterations to a property to ensure the door fits correctly.
This ease of installation allows your business to install them at a quicker rate, resulting in more time to focus on other leads, whilst still ensuring your customers achieve a truly bespoke result.
Features of an Innolux door from Warwick North West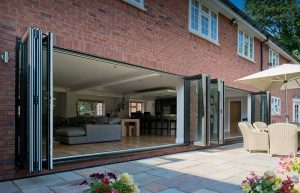 Flush-fitting with a low threshold
Incorporated Yale locks for maximum security
Wide range of colouring options to satisfy any customer
Various panel configurations ranging from two to six
Incredibly fast and easy installation
More rounded profile compared to aluminium counterpart
Roller tracks to ensure smooth operation
Premium trade fabricator putting customers first
Warwick Northwest are one of Merseyside's leading PVCu trade fabricators, serving installers and local builders across the region. Find out more about the Innolux range of bifolding doors by giving us a call on 0151 933 3030 or by contacting us online.