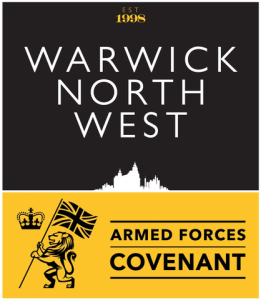 Fast-growing fabricator Warwick North West has become a high-profile signatory of the Armed Forces Covenant scheme.
A positive force for the community
The initiative aims to encourage individuals, organisations and society as a whole to support people who have served in the forces as they return to civilian life – including by encouraging the employment of veterans and their partners, supporting individuals who serve as reservists, and giving the armed forces community a fair deal when it comes to accessing goods and services.
In signing the document, Liverpool-based Warwick becomes one of over 800 businesses, charities and other organisations to make the commitment, a number that continues to grow all the time.
A company proud to support the cause
Director of Warwick is proud of his company's support of the military commitment, commenting "At Warwick, we've always been adamant that it's about more than just making money… We want to use the resources and influence that we have as a successful business and a major employer to do something worthwhile".
Warwick clearly want to use their influence as a force for good, with Greg Johnson further commenting that "There are some truly shocking statistics about ex-service personnel and unemployment, homelessness, mental health problems and other issues, and it's about time that, as a society, we step up to do something about it."
"For us, signing the covenant is something we take extremely seriously. It's an acknowledgement that businesses, like all elements of the community, have a social responsibility to help people, who make sacrifices to keep us all safe, readjust to civilian life. It goes without saying – ex-military personnel have a huge amount to offer employers, from their world-class skills and experience, to their discipline, determination and positive mental attitude, and we'd be delighted to see any veteran candidates who'd like to come and work with us at Warwick
Dedicated trade suppliers
Warwick North West has gained influence over the years to become one of the top PVCu fabricators in the UK, supplying the trade across the North West with quality windows, doors and other glazing products from the Innolux range.
Warwick is pleased to help the wider environment, as with the military covenant commitment, and to help installers, builders and architects improve living and working environments for domestic and commercial end users. It is this combination that makes Warwick the ideal trade partner.