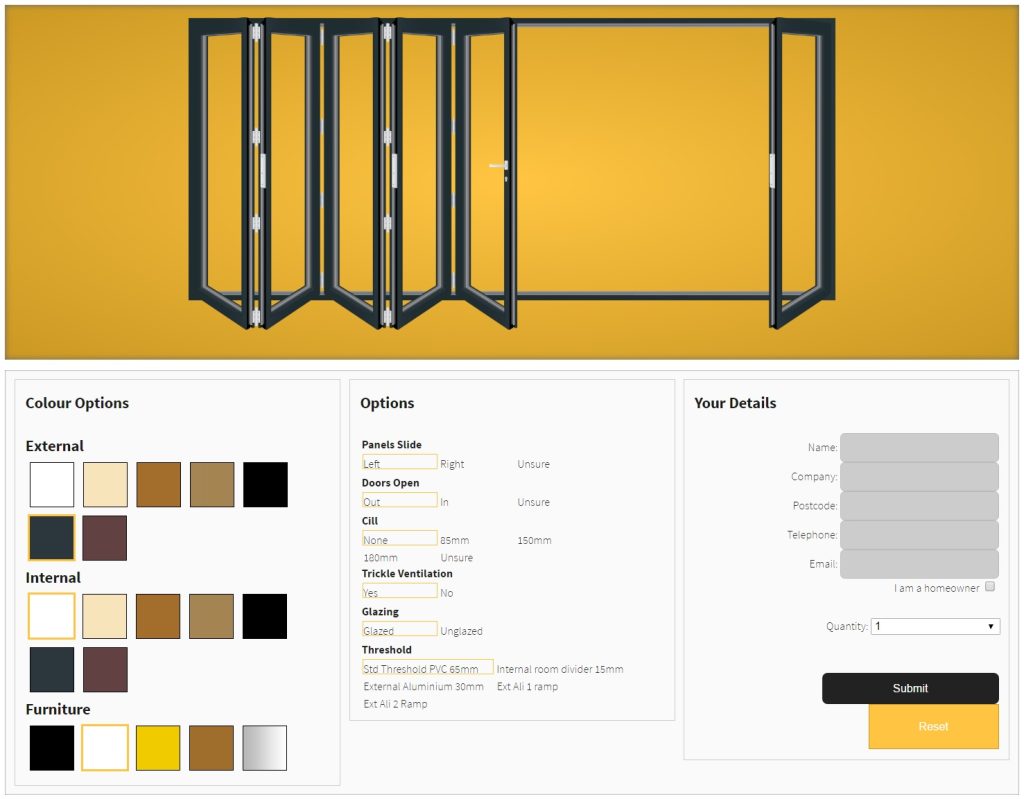 Fast-moving fabricator Warwick North West is enjoying a rush of new leads and business enquiries after a bumper month for its online bi-fold builder, in which trade customers used it 502 times to design and order their bi-fold doors.
Found on Warwick's fully-responsive, mobile-optimised website, the builder offers installers a quick and easy way to input their preferred specification, including size, colour and hardware, before sending to Warwick for a quote.
"We've been delighted with the success of the bi-fold builder in recent weeks," commented Warwick director, Greg Johnson. "We made it with one purpose in mind – making life easier for installers. With just a few minutes spent on our straightforward application, users can design and customise a product that's the perfect match for their latest projects – and, clearly, hundreds of users are making the most of the opportunity!"
As Greg explains, the bi-fold builder is also proving a powerful tool for Warwick's trade customers. "Many of our customers are directing homeowners to the bi-fold builder so they can choose their preferred configuration, or designing a door with them as part of their sales pitch. Consumers are so much more excited about a purchase when they have played an active part in designing it, so the builder is actively helping installers secure more business."
Bi-folds are a core component of Warwick's Innolux range of premium products. The Innolux bi-fold is based on the Eurocell Aspect system and thanks to a host of innovative features, is one of the few uPVC systems that genuinely rivals the look and performance of aluminium. The door features ultra-slim frames and is the only bi-fold door on the market to gain British Board of Agrément (BBA) approval in addition to Secured by Design status.
It is available in two to six door panel configurations and can also achieve openings of up to 2.3 metres high and 6 metres across, with a unique D-handle enabling the door panels to fold back flatter to create a clear 90% opening.
Innolux bi-folding doors are also incredibly easy to install, thanks to a slim-stepped outer frame, which contains all the door hardware inside the frame, removing the need to cut plaster or make alterations to a property to ensure the doors fit.
Established in 1998, Warwick North West has quickly risen to become the region's leading provider of uPVC windows, doors and conservatories. The company has become known for its expertise in intricate and unusual product areas like bi-fold doors and sash windows, as well as high-end uPVC system Modus. Warwick operates from a 25,000 square foot factory in Liverpool, shifting an extensive range of uPVC and doors plus its own sealed units.