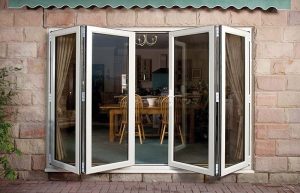 The Innolux range of premium PVCu bifold doors has been taking installers by storm in recent months. A high-end, high-margin collection Innolux bifolds have the potential to truly transform your product range and your business. Here are some reasons why you should consider investing in an Innolux bifold today:
5 reasons to choose Innolux bifolds
1. They're incredibly easy to install
One of the most important benefits of choosing an Innolux bifold for your range is their ease of installation. Innolux bifolds can be installed quickly with a minimum of hassle. This can free your team up to concentrate on more pressing tasks.
Innolux bifolds feature a slim stepped outer frame that incorporates all of the door hardware. This streamlined design removes the need to alter a property to ensure that a door fits perfectly, saving time and effort.
If you're fed up of fiddly bifold door installations, invest in an Innolux bifold and feel the difference. Get a free quote here.
2. They have excellent aesthetics
Thanks to their ultra slim sightlines, Innolux bifolds provide exceptional aesthetics.
Capable of incorporating large panels of double and triple glazing, Innolux bifolds help to enhance the transmission of natural light in a room and add to a feeling of increased space and drama. The doors also utilise an innovative trim that hides seals when in the closed position, and are available in a variety of different colours and finishes, further maximising aesthetics.
3. They're offer brilliant security
Fitted with high performance Yale locking systems as standard, our Innolux bifolds offer truly exceptional security properties.
Thanks to their innovative design, state of the art locking system and thick glazing, Innolux bifolds can withstand sustained attack from even the most experienced intruders. If you're looking to target security-minded homeowners, investing in a Innolux bifold can help bolster the security credentials of your business.
4. They're energy efficient
Supplied with high quality Planitherm Total Plus double glazing as standard, our Innolux bifolds can help to improve the overall energy efficiency of a property. What's more, the double glazed unit incorporates Phermobar warm edge spacers and is Argon-filled. This allows the bifold to provide excellent balances of temperature.
With an innovative six chambered profile design, Innolux bifolds can help to transform both the aesthetics and the warmth of a home, making them a valuable investment for any product range.
5. You can design your bifold online and get an instant quote with our online builder!
Another reason to invest in an Innolux bifold is the speed of returns on quotes. Specifying a bifold door and getting a quick quote for it is easier than ever thanks to our online bifold builder.
We know that the specification and quote process can be particularly long-winded and time consuming. That's why we've cut out the hassle with our browser-based bifold builder app.
Simply choose from a variety of configurations, opening options, colours, and hardware and submit it. We'll then get back to you within hours with a quote for the bifold you've just specified. It really is as easy as that!
Get a quote for bifolds from the Innolux range by calling us on 0151 933 3030 or by sending us a message. We hope to hear from you soon.