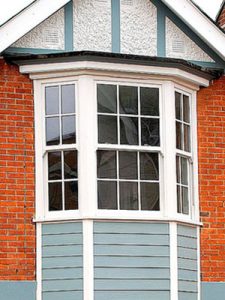 Investing the high performance Innolux range of windows should be the first thing you do for your next home improvement project. Here are a few reasons why.
1. They are a high end, high performance product, offering higher margins
As a high-end, Innolux windows were created with high performance, durability and longevity in mind. Crafted from the highest quality uPVC profile and utilising an innovative, energy efficient design, casement windows and vertical sliding sash windows from the Innolux range are some of the highest performing windows on the market. This allows them to command a higher price on the domestic market, letting you make larger margins as a result.
2. They are available in casement and sash styles
The Innolux range is designed with high performance and versatility in mind. That's why windows from the range are available in two of the most popular styles suited to traditional and modern homes: casement and vertical sliding sash designs.
The workhorse of many an installer's product range, casement windows are an excellent suit-all replacement option that fits in well with the demands of modern and older style properties. Likewise, the beautiful vertical sliding sash window is similarly suited to a variety of property styles and can be configured in standard, slim rebate and flush styles increasing customisation options for the end-user.
3. Innolux windows are available in a variety of different colours
When it comes to colour options, the Innolux range of windows stands head and shoulders above similar ranges. Apart from from classic white, Innolux casement windows and vertical sliding sash windows are available in Black Ash, Anthracite Grey, Slate Grey, Moondust Grey, Anteak, Rosewood, Irish Oak, Cream and White Ash. This gives you and your customers an exceptional variety of choice when it comes to customising your new window.
What's more, we also supply Innolux windows in the Architectural Range of colours which includes Quartz Platinum, Asphalt, Crown Platinum and Agate Grey, for enhanced customisation.
4. They have incredibly slim sightlines
Crafted using the high quality Eurocell profile, casement windows and vertical sliding sash windows from the Innolux range are capable of achieving impressively slim sightlines. This can result in much larger areas of glazing being incorporated into the window, and in enhanced aesthetics for the overall window as a result.
If you're looking for a range of windows that can rival and the slim sightlines and sleek aesthetics of aluminium, the Innolux range could be for you.
5. They are very energy efficient
With a unique 6-chambered profile design, Innolux windows are capable of achieving excellent levels of thermal and acoustic insulation. Supplied with high quality double glazing as standard, the Innolux range of casement and vertical sliding sash windows are rated 'A' for energy efficiency. This makes them the perfect product to invest in if you need to enhance the warmth and reduce the energy bills of a property.
Warwick North West are one of Merseyside's leading uPVC trade fabricators, serving installers and local builders across the region. Find out more about the Innolux range of premium PVCu windows and doors by giving us a call on 0151 933 3030 or by emailing us.