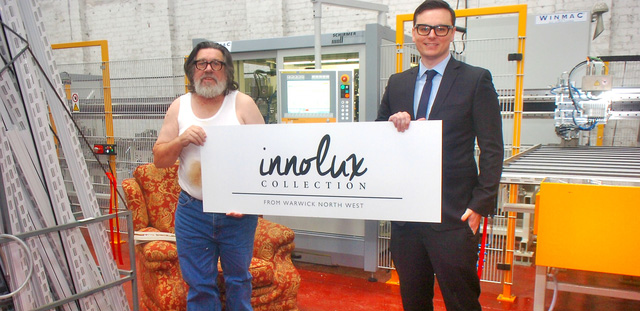 Ricky Tomlinson, star of hit TV comedy the Royle Family, recently visited the factory of a Liverpool based trade fabricator Warwick North West to help promote their new range of Innolux windows and doors.
The Royle Flush Event – named after Warwick's new flush sash window and Ricky's famous character Jim Royle – included a day of filming and photography, with Ricky explaining on camera why he chose to support Warwick with the launch.
After the video interview, Ricky then changed into his famous Jim Royle attire and posed for a selection of photos with Warwick North West director Greg Johnson next to the company's new Schirmer saw centre. Finally, Ricky visited a recent installation to film a comedy sketch about the new Innolux bi-folding door.
Ricky explains why he decided to lend his support to Warwick: "10 years ago Warwick supplied my conservatory and I was incredibly impressed with the service I received. The conservatory is still as good now as the day it was installed, and when I heard that Warwick were launching a new product range and were looking at some interesting promotional ideas, I was more than happy to help out. It's great to see a local company creating jobs and investing for the future and I'm glad I could be of assistance."
Director Greg Johnson commented: "Jim Royle is an incredibly popular British comedy character, so it was very entertaining to watch Ricky film a sketch with our new bi-folding door. The sketch is a bit of fun but has a serious message – that Innolux bi-folds are incredibly easy to operate, even for someone with a notoriously short fuse such as Jim Royle! I would like to thank Ricky for his help and I hope our customers enjoy the video."
Combining innovation and luxury, Innolux is a new range of premium casement windows, sash windows and bi-fold doors for the more discerning homeowner.
The Jim Royle sketch and Ricky Tomlinson interview will be released later in the year.