Warwick North West is celebrating its 25th anniversary this year, marking an important achievement for the company.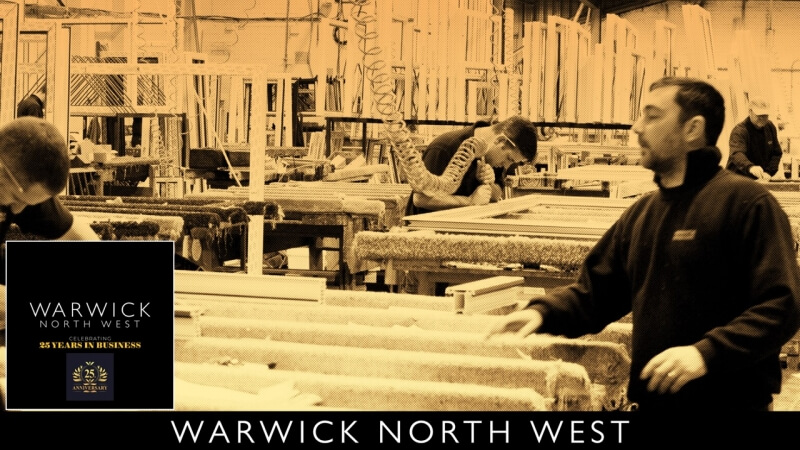 But it's not just a quarter of a century that's being celebrated – following 25 years of expertly manufacturing uPVC windows and doors, the company has made a milestone decision to manufacture aluminium products too, offering a wider choice to its installer customers.
Director Greg Johnson comments: "'Warwick North West' is a brand name for our company Warwick Development North West Ltd., which opened its doors back in 1998. In early 2000, we moved to a larger premises, and in 2002 we made a great decision to start manufacturing Eurocell uPVC products. We are a very proud Eurocell manufacturer, and to this day, we have a great relationship with them, and their company motto 'All together better' is 100% true.
"Supplier relationships have been key to the business' success over the years, which is why when we chose to branch out into aluminium, it was important to choose the correct partnerships and systems company for our offering.
"We had dipped our toe into aluminium in 2018 by manufacturing bi-folds, but we have now recently invested in a new factory unit, a separate production line, additional staff, as well as new state-of-the-art machinery in order to successfully deliver a new aluminium offering from both Garnalex and Cortizo.
"The great innovation from these product ranges, the investment and proven success of the people have all been driving forces behind our decision, and with fabricator and installer friendly designs, they are a perfect fit for us."
Warwick North West now proudly manufactures Garnalex's Sheerline casement window and roof lantern, as well as high-quality bi-folds and sliding patio doors from Cortizo.
The company also has its own IGU manufacturing unit, delivering fully manufactured glass units alongside both aluminium and uPVC frames, saving installers time and hassle.
Greg continues: "To mark 25 years in the industry is a huge achievement, and what better way to celebrate than by branching out and expanding what we can offer our valued customers.
"I would like to take this opportunity to say a huge thank you to all our customers over the past 25 years, our fantastic staff, some of whom have been with us from day one, and our supplier network who continually help us to strive for a very high standard. Here's to the next 25 years of success!"