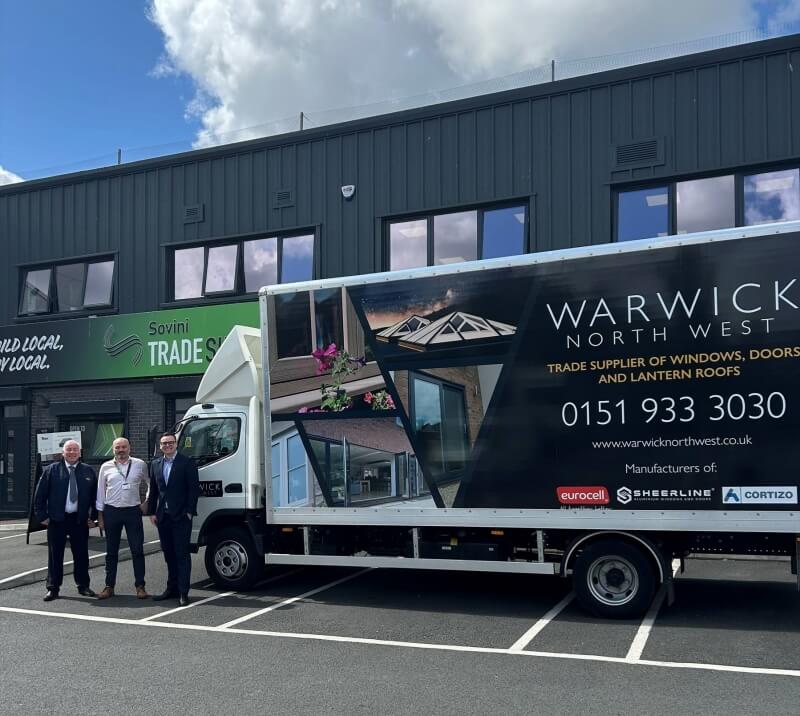 Since opening in 1998, Warwick North West has prided itself on not only supplying quality windows and doors, but on service, product innovation, values and ethics.
It's why the company is proud to announce its partnership with fellow Bootle business The Sovini Group, a leading provider of housing, maintenance, and construction services across the North West whose commercial profits support social and not-for-profit businesses in the local community. The Group has a unique end to end supply chain that offers a complete range of services including waste solutions, asbestos removal and commercial scaffolding.
Warwick North West will be supplying The Sovini Group with a range of windows and doors, including Modus, a seven-chambered casement window that can achieve a U-value of 0.8.
Warwick North West Director Greg Johnson comments: "Helping the community has always been important to us, and is a value we share with The Sovini Group. We're incredibly proud to have partnered with them and look forward to our growing success.
"Warwick has been operating for 25 years, and in that time we've invested in market-leading PVC and aluminium products, our own in-house IGU manufacturing unit, and most recently, a new £550,000 Schirmer cutting and machining centre.
"This continual investment has seen us reach a position where we're able to successfully provide companies like The Sovini Group with the quality products and services they need. We're particularly proud to be able to offer them our innovative and low U-value Modus window, which will help them meet their commendable goal of achieving net zero carbon."
Head of The Sovini Group Procurement, Ammi Williams commented: "The Sovini Group is committed to procuring the best services and products for our customers, at the best value. We ensure Procurement across the Group is open, fair and transparent.
"The Sovini Group owns, manages, and maintains over 14,000 homes through an active and growing development programme. That is why we are committed to procuring the very best service and products for our customers, at the best value – something which we are delighted to have achieved with Warwick North West. They provide a timely and professional service, and most importantly, a shared community focus."
Greg concludes: "We're so pleased that The Sovini Group chose Warwick North West for their requirements – it's a real testament to our hard work and dedication, as well as to the investments we've made over the years.
"Looking forward, we hope to be more than just a supplier for The Sovini Group – we want to be part of their unique supply chain, creating a sustainable and collaborative partnership for many years to come."