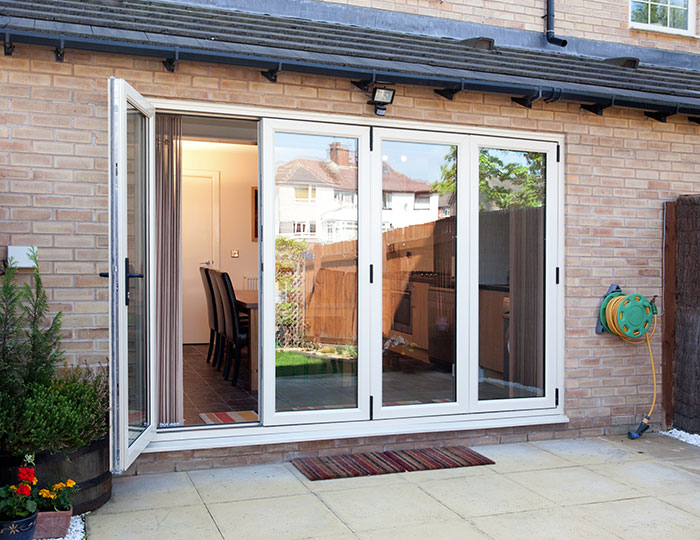 Do you have many customer enquiries about bifold doors? Have you ever been asked if modern PVCu bifold doors can rival aluminium for style and quality? If so, we hope you answered yes! At Warwick North West, we can supply modern PVCu bifold doors that are sure to enhance the style of any home and provide an excellent alternative to their aluminium counterpart.
Modern PVCu bifold door benefits
Our modern PVCu bifold doors feature ultra slim sightlines which rival aluminium for increasing natural light intake. The doors include a trim to hide the seals when the doors are closed and a slim stepped outer frame containing all the internal door hardware.
At Warwick North West, we manufacture our PVCu bifold doors using quality Eurocell PVCu systems. Where aluminium has an angular profile, our PVCu bifolds are more rounded which is perfectly suited to properties with existing PVCu windows. The majority of homeowners opt for PVCu windows, so our modern PVCu bifold doors will create a uniformity to a property and not look out of place.
Modern PVCu bifold doors are also extremely easy to install. With all the internal hardware contained in a slim stepped outer frame, there's no need to cut plaster or make alterations to a home to ensure the door fits.
Why choose modern PVCu bifold doors?
Our modern PVCu bifold doors are:
Available in 2 to 6 panel configurations
Fitted with a flush low threshold
Able to incorporate top or bottom concertina mechanism
Fitted with D-handles for 90% opening width
Manufactured for openings up to 2.3m high and 6m across
Able to include a traffic door in the design
Available in a variety of colour options
Fitted with Yale locking systems for the best in home security
Made using a 6-chambered profile for excellent energy efficiency
When you want to offer your customers a bifold door to truly rival aluminium; choose modern PVCu bifold doors from Warwick North West. To place an order call 0151 933 3030 or send us a message online.